Products

/

OCR reader for passports and national identity cards ACI315E OCR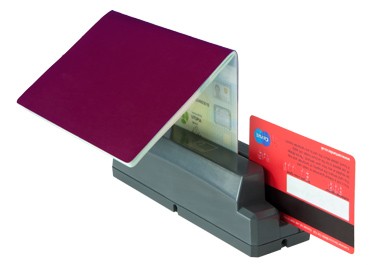 OCR reader for passports and national identity cards ACI315E OCR
---
---
The ACI135E bi-directional reader can read 2-line and 3-line MRZs from passports, ID cards, machine-readable visas and ICAO9303 travel documents.
---
До 14 дена можете да върнете поръчана стока
Цените са без ДДС
Купете сега, получете до 2 работни дни
The device can simply be attached to a variety of handheld and ultra mobile PCs, tablets, standard desktop keyboards and monitors, or act as standalone units as part of the check-in process. The interface connection is via USB. The track length and single slot design is optimised to ensure that passports and ID cards are correctly aligned for consistent and accurate reading.
Applications
Airport check-in and gate applications and security checks
AQQ, eBorders and APIS generation
Duty Free
Hotel and car hire registration
Portable border control applications
Police identification-checking
Banking ID checks
Features
Compact design and small footprint
USB 2.0 interface (USB HID, keyboard and virtual serial interfaces)
Reads machine readable passports, visas and travel cards conforming to ICAO Document 9303
Rapid and accurate decoding
Bidirectional OCR read
Bi-colour LED and audible alarm providing good/bad read indication
Can be used as free standing or mounted to monitors, keyboards or tablets
Cable length options
Multiple cable exit positions
Firmware download / upgrade capability
Specifications
OCR read capabilities
Standard OCR fonts: OCR-B; and E13B (by special order only)
Machine readable passports (MRP):
2 lines of 44 characters
Machine readable visas (MRV):
2 lines of 44 characters, 2 lines of 36 characters
Travel documents: 2 lines of 36 characters, 3 lines of 30 characters
General
Overall dimension:
150L x 44W x 42H mm (excluding feet);
x 45H mm (including feet)
Weight: 200 g
Beeper: Single beep for good read, 3 beeps for bad read
Indicators: Power and good and bad read LED indication
Cable Length: Short and 1.5m options
Colour: Dark grey
Connection and interfaces
USB2.0 full-speed interface
USB HID (virtual serial and keyboard emulation options)
Electrical specifications
Input voltage: +5 VDC, 250 mA via USB connection
Environmental
Operating temperature: 0°C to 50°C
Storage temperature: -20°C to 60°C
Approvals
Safety: EN 60950-1: 2006
EMC: FCC 47CFR Part 15 Class A;
EN 55022: 2006 + Amd1: 2007;
EN 55024: 1998 + Amd1: 2001 + Amd2:2003