Products

/

Xiaomi Mi TDS Pen - Water Quality Tester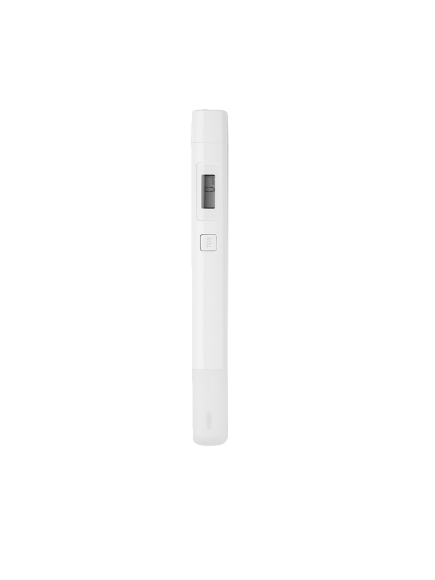 Water - the most important thing to our body, without it we can not exist. Our body is more than 90% water at the moment we were birth and as mature - 70%.
In the 21st century, unfortunately, we do not always supply quality water in our bodies. The factors for this are many - rusty pipes (for example, in most blocks the pipes are 60-70 years or more), excessive chlorine, insufficient filtration, poor water sources from which the water comes to us and, last but not least, infest, parasites and acid rain, which in the last seasons grow more and more and are poured into our water sources.
To be healthy we not only need to drink water, but drink such with a good quality. Mi Water Test Pen will help you with that! 
The device is really simple and effective. You just have to open the lower part, press the button and place it in a glass of water. It can instantly give you the result on its display and let you know if the water is good to be drink. Mi TDS PEN also reacts to organic sedimentation and heavy metals like nickel, chromium and others. It also detects the salt in the water!
Скала за качетвото:
0-50  – Висока чистота
50-100  – A bit higher
100-300  – Middle quality level
300-600  – High levels of purified water!
600-1000 – Water with very poor quality!
1000- Strongly recommends not to drink this water!
*The best is to consume water with indicators from 0 up to 50 and from 50 up to 100! All indicators above that are not usefull to the human body.
What ingredients can Mi TDS PEN finds in the water?
Calcium, magnesium, ammonium acetate, SIPE chromium, zinc, lead, copper, soluble salts, organic compounds, heavy metals and less dissolved solids.
MI TSD PEN is really usefull at home. 
As you know at a particular age a baby starts to drink water right after it has received its food. Yes, the baby should not drink water with all that harmfull ellements. With Mi TDS PEN wou will always be able to control the quality before it goes to the baby. You will also be calm thet your baby will grow up healthy!
You can test the tap water, the heated boiler water, a lake water (if you are in the contryside), river water, in a station or somewhere alse. You can test any water at any time, wherever you are!
The IPX6 pen is waterresistant and has automatic temperature calibration and accuracy of mesurement. The TDS pen is coming with two AG13 batteries.