Products

/

Fingerprint terminal with RFID - K41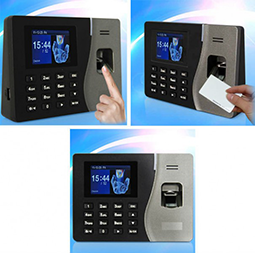 Product description:
К41 is a terminal for attendance calculation which has different types for registration: fingerprint, PIN code, RFID card. Recognition is done for up to 2 seconds which means that this device is suitable for places with great human stream. It has two ways to calculate the attendance time . 1st is only beginning and ending of the work day. 2nd is all events when lunch , coffee and others is ejected from the whole work day. The communication between the software and the device is Ethernet which means it is easily used from all aver the world and you can easily make centralized system. The software has the ability to create different schedules, pre defined shifts, input of vacations, business leave and sickness, lot of reports, exports and others.
Functionality:
Standalone mode;

Great event memory;

TCP/IP communication;

Colour display;

Types for registration: fingerprint, PIN code, RFID card;

USB for downloading and uploading data;

Functional buttons;

Beep and voice notification;

Automaticaly switching of functional buttons;

Beggining and ending alarm;

Work codes;

Volatile memory and clock;
Application:
The biometric terminal К41 is very easy for installation. It is perfectly suited for all kinds of companies which have to calculate attendance of employees and visitors. Its small dimensions make this device usable like mobile device for construction sites and others which have no electricity and connections. The free software supports many functions and settings which are helping for accurate reporting and facilitate the work of the operator.