Products

/

Multi doors access Control panel iTDC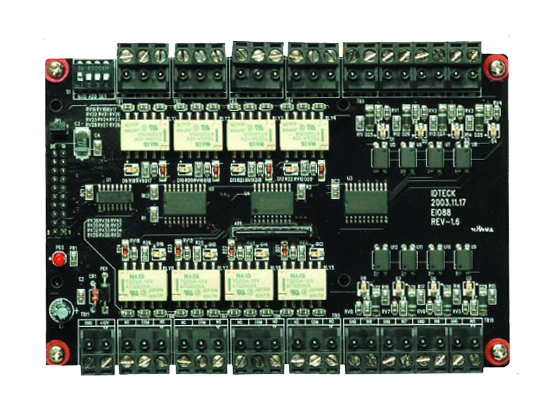 Dynamic Control of Memory up to 50,000 Users / up to 29,500 Event buffers :
- 1000 ~ 20 000 / 30 000 / 40 000 / 50 000 Users
- 20 000 ~ 29 500 / 3000 / 8000 / 14 000 Event buffers
• Standalone/ Network communication via RS232 / RS422 (Max.256ch), TCP/IP (Internal TCP/IP Module required (optional))
• Time schedules:
- Time code: 15
- Time interval: 5
- Holiday code: 10
- Holiday: 100
• Expansion I/O Board available (EIO88: 8 Inputs / 8 Outputs)
• Independent 7 Inputs and 7 Outputs including 4ea of 2 Form-C Relay Outputs
• 4ea of Reader port for Anti-passback function
• 26bit Wiegand and 4 / 8bit Burst for PIN
• 2 Men Operation - this function is used to manage the visitors. The visitors are only accessible when accompanied by authorized administrator. The doors are opened when two registered cards are read together.
• ARM / DISARM Function for Alarm panel - this function is used to increase the security level by denying the access if the administrator is not present. If the system is armed by the administrator, none of the access is granted, unless the system is unarmed by the administrator.
• 2 Levels Individual door opening time setting available for handicapped person.
• Remain ID & Event data and Setting value in case of electric outage.
• Duress mode function - this function is used to notify a dangerous situation or in case of the situations where the users are forced by thieves or criminals to open the door. Using the duress mode, the user can enter the two digit pre-configured duress mode code and the door will open as usual, but it generates the duress alarm output, which activates alarm event to be notified by e-mail or SMS messaging.
• Guard tour management.
• Anti-passback - this function is used to prevent any entry or exit of unauthorized users by allowing exit only when proper identification is authorized.
• Alarm event monitoring using Tamper switch (by Application software).
• iTDC can be integrated with other security systems such as CCTV, fire alarm, BAS and other systems to configure total security system.
• Communication status via LED indicator.
• Options: Optional LCD display and Keypad connectable to control for Standalone operation, Manual setting, Internal TCP/IP module, Expansion I/O board.