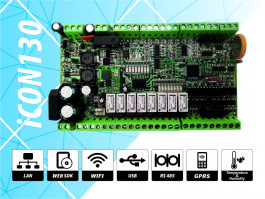 Control panel iCON130
---
---
Access, time & attendance control, automation - 4 doors one-sided, 3 doors - 1 on the both sides and 2 one-sided, or 2 doors two-sided.
---
Warranty (years): 2
Readers inputs: 4 х. Wiegand 26/34 bit (automatically selected) и 4-8 bit number for PIN
Readers modes: Only Card

---
До 14 дена можете да върнете поръчана стока
Цените са без ДДС
Купете сега, получете до 2 работни дни
Conforms to EN 50133-2-1 and BDS 50133 standard ;

Communication mode via USB / LAN (additional module)

Network communication over RS485 (up to 253 devices)

Dual working mode – as controller and converter RS485 to LAN(USB) at the same time.

Time & attendance calculation with software Andromeda Pro and Cloud solutions

Control of 4 single sided doors, two double sided doors and combination.

Ability for emergency opening by other system.

Automatic activation of the outputs by predefined time schedule (up to 15 pcs x 8 days and 3 hour periods)

Time schedules for access control - up to 96 pcs

Dual card/person authentication mode.

Open protocol for integration with other systems WEB SDK

IO tables can be set automatic according to controllers mode or manually by user

Non-volatile memory and real time clock

Ability to control a turnstile with anti passback function.

Built in Duress Mode ( forced opening the door with silent alarm)

Battery output with protection from deep discharge.

Ability for battery test without interrupting controllers activity

Ability for automatic switching readers mode.

Digital sensor input for temperature and humidity.
| | |
| --- | --- |
| Cards capacity | |
| Events capacity | |
| Work modes | 2 doors double sided , 1 door double sided and 2 doors double sided , 4 doors single sided |
| Readers inputs | 4 х. Wiegand 26/34 bit (automatically selected) и 4-8 bit number for PIN |
| Readers modes | Only Card |
| Warranty (years) | 2 |